We had a delightful photo shoot of a gorgeous, bright little Mini Schnauzer named Darcy who we were introduced to by Willoughby Vet. Our whole team fell in love with Darcy as we took a series of photographs of him in our studio. He was an absolute darling to photograph. At only six months old we were incredibly amazed at how calm, relaxed and responsive he was. He seemed to take the photo shoot all in his stride and performed admirably for us. When we looked through the series of images, we were in hysterics looking at his expressions and if his wagging tale was hidden or peeking out like a windscreen wiper going at full speed.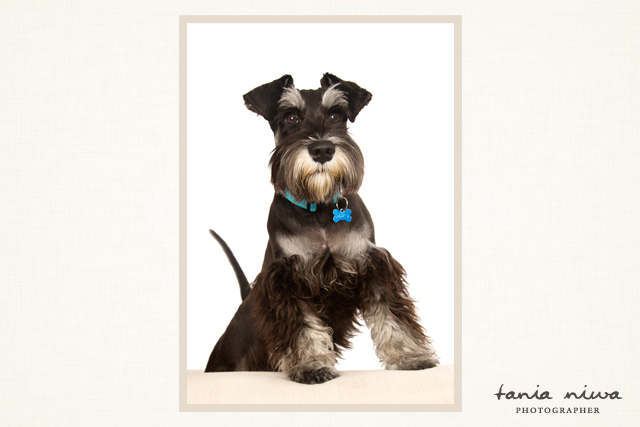 Darcy's Mum and Dad, Valerie and Ray have been kind enough to let us share their story about how Darcy came to be part of their family,so here it is…
"We were devastated that our previous dog Rolf died last July, he was only 10 years old and needless to say we were very sad. We had a holiday visiting friends and family planned before he became sick, so after his passing we hit the road heading for Central Queensland. The trip helped us to refocus and when we arrived home we started to think what we would do to have another dog in our live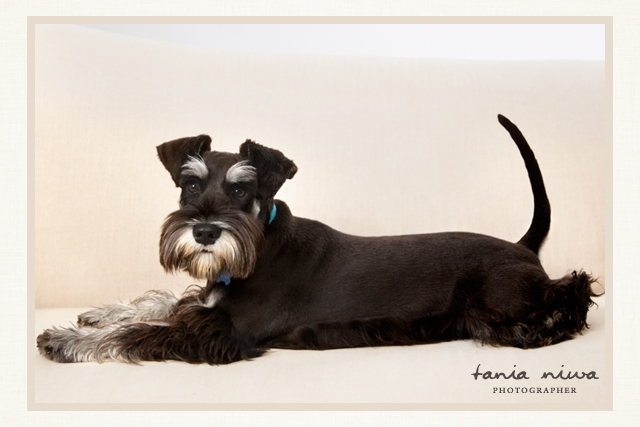 I went online concentrating on mini schnauzers. We considered a rescue dog but Ray was set on another mini (in spite of the cost). After many dead ends, I found a breeder in Taree that had a recent litter. We wanted another male and with the offer of not only a boy but also a different colour to our darling Rolf (he was salt and pepper), we decided to go.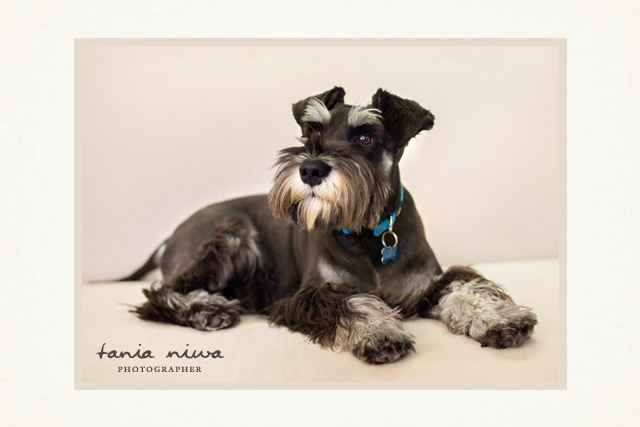 We decided on the name "Darcy" when he was only about three weeks old and still with his mother. We were told that his colour was black and silver and so we looked forward to meeting our boy when he would be nine weeks old. Early in November, one Sunday, we headed north to take delivery of our new family member. We picked him up from the breeder's son's home on the western shore of Lake Macquarie. The breeder had driven down from Taree to deliver three tiny puppies to 3 three nervous new owners. He was just a tiny bundle of black hair and we could see touches of the "silver".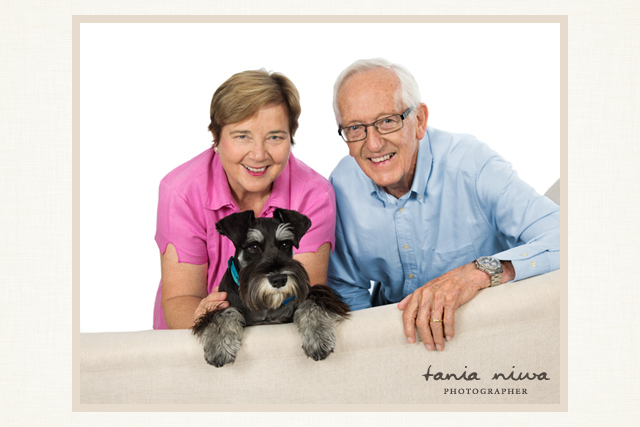 The trip home was fine as I held him all the way and he has thrived from then. He loves the car, sleeps well, eats well and has grown into a very handsome dog gaining admiring attention wherever we go. He brings us much joy and laughs which the experts tell us is good in our senior years."
If you would like to view examples of Tania Niwa Photography Pet Portraits please click here. To enquire about having portraits of your family and pet/s please call us on 02 9939 5553 or email us. We offer complimentary consultations at our studio in Brookvale behind Warringah Mall.