In just a few days I will return to my home province of Taranaki on the west coast of New Zealand's North Island for a Maori reunion of the Niwa Whanau ('family'). It has been 18 years since I made the big move to Sydney's beautiful Northern Beaches suburb of Manly.
Although I loooove the Sydney lifestyle, it's people, diversity and it's climate (today's autumn temperature was a welcome 32 degrees), there is nothing like the feeling of returning home to Taranaki.
If you are from Taranaki you just might agree… sometimes you get this feeling that Mount Taranaki is calling you home!!!! It is a real heartfelt experience to recharge your batteries, soak up our proud Maori culture, breathe the fresh air and enjoy being around your loved ones. It is also good to get a bit of an education from my 22yr old niece Corey-Leigh on the latest Kiwi fashion trends and celebrities (albeit in business or in sport). It is never long before an All Black is mentioned or seen either!!!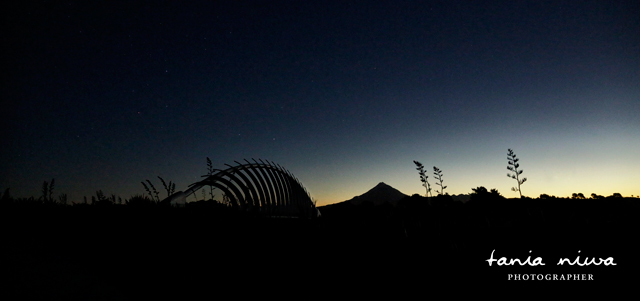 PHOTOGRAPHY TECHNICAL INFO: Camera: Canon EOS 5D Mark III | Lens: EF24-105mm f/4L IS USM | Shutter Speed: 0.4 sec | Focal length 24.0 mm | Aperture: f/5.6 | Date created: 4/01/2013 – 9:51 PM | ISO Speed Rating: 6400 (this is not a misprint – that's right 6400 ISO – wow!!!!)
This photo shows one of the latest new landmark treasures – Te Rewa Rewa Bridge – a pedestrian and cycle bridge across the Waiwhakaiho River at New Plymouth. This area is a Maori tribal burial ground (Rewa Rewa) and was the site of a battle during the Musket Wars. The 83m long bridge is reminiscent of a breaking wave or a whale skeleton. It is set in a semi-rural area and is simply breathtaking!

My 'super-fit' 'super mum' is a long distance runner, so I am really fortunate that she takes me on different adventures, this walkway being one of my new favs. The amazing 11km coastal walkway had expanded dramatically since my last visit. It has really made a positive impact on the area. It was soooo cool to see kids, parents and grandparents all enjoying the path with wheelchairs, scooters, bikes.

For the last week I have been thinking about the evening I photographed the ever majestic Mount Taranaki and took great excitement in opening the folder of digital images that I hadn't yet taken time to choose my favourites. That evening was after my Grandad's 94th birthday get together at the end of my January holidays. Can you imagine going to take photos at 9.30pm and night of a sunset? Having lived in Sydney for so long, these late night sunsets are definitely a novelty. At 10pm at night there was til a warm glow in the sky. I took my sister-in-law Mandy and 10 yr old nephew Finn with me (they are from Auckland so were equally as excited about the adventure). Finn shares my photography obsession and had a blast taking photos on my compact Canon G12 camera until he realised he really needed a tripod to take longer exposures than he could manage by hand holding the camera.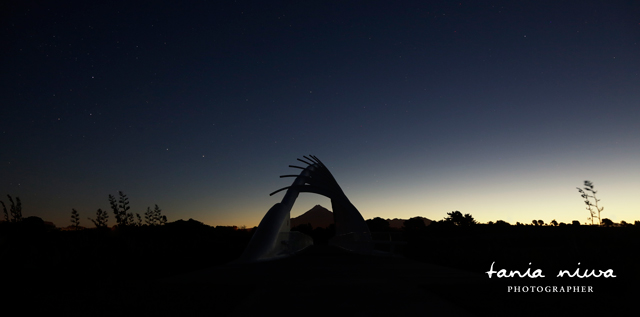 Shutter Speed: 10 sec | Focal length 24.0 mm | Aperture: f/7.1 | 9:57 PM | ISO Speed Rating: 1000
I took the first photo image at a crazy high ISO of 6400. I hadn't up until this time felt the need to experiment with such a high ISO but in this case it that I could capture the scene at shutter speed of 0.4 sec instead of a few seconds as I didn't want the the flax seed pods moving too much and looking blurry.
You will see the second image was taken using a slower shutter speed of 10 seconds at 1000 ISO. This gives me an image with less grain and a sharper result but you have to be happy to see movement in the seed pods blowing in the wind on the right side.
Later in the year I will be returning to Taranaki again to be part of an art exhibition aptly titled 'Call of Taranaki' as instigated by my brilliant artist mentor Darcy Nicholas at the Govett-Brewster Art Gallery.
If you would like to purchase these images or see others from Taranaki click here or please contact us. We will be opening an online gallery over winter.