Whakakaitiakitanga – PRESERVING OUR PŪRAKAU THROUGH TOI  Exhibition starting on Tuesday 8th February 2022 at Lysaght Watt Gallery, 4- 6 Union St Hawera.
"Rāranga brings unity and enjoyment, it is conveyed through the knowledge of our Tūpuna (ancestors) into the present and on into the future…" 
Whaea Mako Jones, Kairāranga. "Photographic art, hei te pō can transport us to another realm within our imagination, sparking inspiration and healing…" Tania Miriama Niwa, Kaitoi whakaahua. 
We are a collective of eight Wāhine Māori connected by whakapapa (kinship) and/or friendship, helping to support the preservation of our mātauranga (ancient knowledge, wisdom, education) through our toi (art). You will see an array of exquisite toi from six Kairāranga (weavers), a visionary young printmaker and photographic art of te ao Māori – the Māori Universe. Our printmaking artist is 18 yr old Nia Tipene who is a great moko of the late Kuikui, Whero o Te Rangi Bailey. Nia explores "the duality of light and dark, sleep and emergence, masculine and feminine."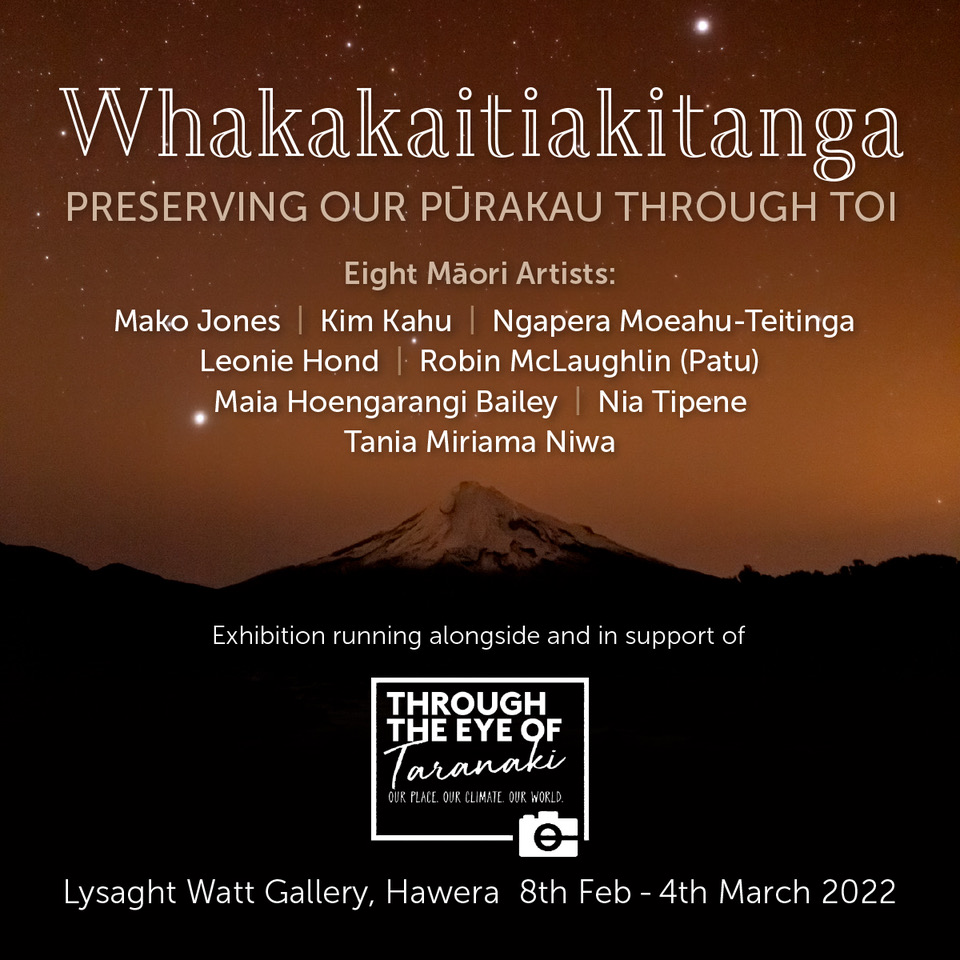 Our exhibition was created to support 'Through the Eye of Taranaki' Our Place, Our Climate. Our World, which is also on show in the adjoining gallery space. Through the Eye of Taranaki was first shown at the Govett-Brewster, then Gallery Patea. 
15 rangatahi (students) from schools around Taranaki came together to explore climate change and environmental issues through the lens of a camera. They workshopped climate issues with leading Earth Systems Scientist Prof. Tim Naish then spent a week with professional photographers Camilla Rutherford (Wanaka) and I.  
Rangatahi spent time honing their photography skills whilst observing and documenting nature alongside the Patea awa (river) in Whakaahu-rangi Stratford and also went on a haerenga (journey) to Te Rere o Kapuni on Mōunga Taranaki. Here they learnt ancient narratives kōrero from Matua Phil and Whaea Puhi Nuku then had a great adventure in the rain, to experience the mighty power and beauty of Te Rere o Noke Dawson Falls Waterfall. 
In this exhibition, you'll see images and powerful statements by these young women, each sharing their views on climate change as well as photos from Camilla and I. This 'Arts Inspiring Climate Action' show is a Track Zero initiative in partnership with Taranaki Arts Festival, delivery partner Enviroschools Taranaki and supported by Creative New Zealand, Ministry for the Environment. 
FYI: NO VACCINE PASSPORT REQUIRED TO ENTER GALLERY 🙂 
We are having a very small gathering/celebration on Friday evening 6pm 11th Feb, however the current restrictions state 25 people max. Some of the artists will be at the gallery from around 5pm if you want to pop in then.
Ngā mihi nui Miriama Tania Niwa. Mb +64 27 599 7556 | [email protected] 
Lysaght Watt Gallery – 4-6 Union St, Hawera, Taranaki, New Zealand. 
*Exhibition opens Tuesday 8th Feb 2022 for four weeks.
GALLERY OPEN: Monday-Friday 10 am-4 pm | Saturday 10 am-2 pm