I was recently in Newcastle for a workshop giving lots of professional photography tips to my colleagues who were keen to further develop their skills both technically and in business. It was awesome to be surrounded by motivated and dedicated photographers who gave up a day out of their busy schedules. As well as Newcastle photographers we also had the privilege of photographers from Perth, The Blue Mountains, The Central Coast and Sydney join us.
At the workshop I went through a series of different lighting scenarios and posing techniques that people could also use for their own family portraits, commercial head-shot portraits in the studio, outdoor portraits using on camera flash speed-lights, off camera speed-lights using light stands and Ezybox hot shoe soft boxes as well as very powerful portable studio lighting. In the portrait below with my colleagues who attended, I used available light and also added flash light from an Elinchrom Quadra Ranger Battery Flash accompanied by an Elinchrom Rotalux Deep Throat 100cm Octa Soft Box. The power output from this battery flash for a large group is phenomenal!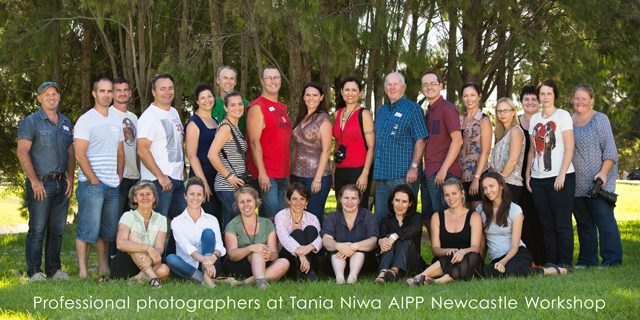 The advantage of using this system if you also use Elinchrom lighting within your studio is that you can use an adapter and use your soft boxes with this very light and very portable Quadra Ranger battery flash system. Being able to use the Octa soft box outdoors produces the kind of light that any photographer is likely to be overjoyed at. I showed the photographers what the image captures looked like and also the family below, they were all stunned and impressed. The location we used was very ordinary and not a pretty location, the time of day was early afternoon when the sun was very strong (a time I would avoid at all costs where ever possible). Making the best of it, we headed for the very small areas of shade we could find. Adding the extra battery flash light gave an extra brightness and sparkle in the subjects eyes.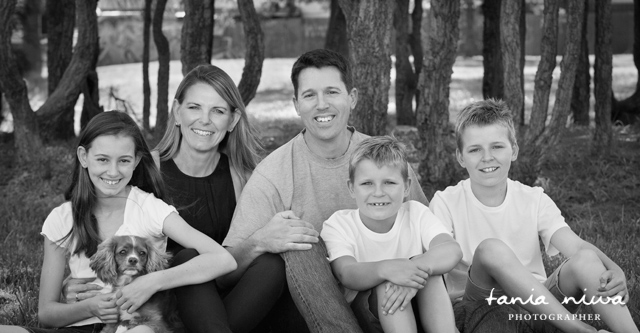 As mentioned above, in this tricky location, at a time of day that was not ideal, I photographed this delightful family and had the other photographers help direct them, practise different elements of posing and composition. We focused on composing the family with a nicely balanced, rhythmical flow with their head positions, making sure no one is too far away from each other so they are equally represented and look like a family unit. We were also focusing on hand placement so that they weren't over-emphasised, also making sure knees were slightly angled and flattering. Most importantly we wanted to engage them to capture relaxed, unforced smiles. Steve, Cheryl and their children (l to r) Amy 12yrs, Henry (dog), Nicholas 8yrs and Caleb 10yrs were very co-operative even though it was an extremely hot day and the mosquitoes were eating them alive!!!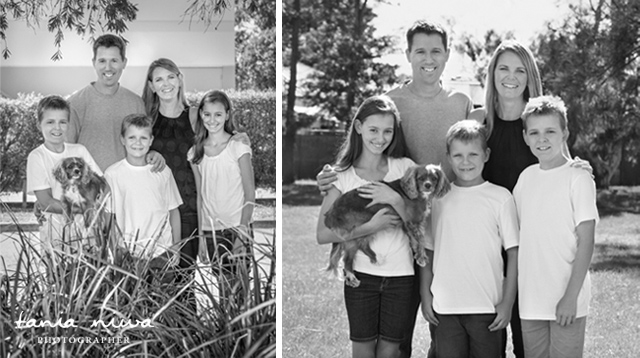 About the portraits directly above: With the left image I explained to the photographers that I prefer to work in the shade for more flattering and non-patchy light. Behind was an ugly building and bright, reflective road, so I made use of the foreground greenery and tree above them to try to envelope them and make a nice frame within the image. Here I used my Canon 6o0 EX speedlight on camera. Normally I would set it at ETTL at minus one and two thirds so it automatically outputs minus one and two 3rds the exposure I have set for the cameras exposure and just adds a gentle but important fill light into the eyes and under the eyes, but because the light was so strong behind them I had to make this flash output stronger at around minus one output. This does mean sometimes that it makes people look shiny so you will have to either use a translucent powder makeup on their skin (always keep one in your kit) or retouch afterwards in post production. I also like to stick to the same settings for the whole shoot – ie 1/400 second at an aperture of f/8 Lense Canon EF70-200mm f/2.8L IS USM. I adjust the ISO as I need to. Here I used 640 ISO. The quality of digital files is unbelievably incredible these days that you can use higher ISO's than ever before without compromising visible quality for your client. Here I used my Canon EOS 5D MarkIII. I never use a wide angle capture to avoid any unflattering distortion with the people. I find if I keep my shutter speed at 1/400 second I will be sure to avoid any blurry photos from camera shake and by using an aperture of f/8 each family member is always sharp with the depth of field of say 20 to 30cm. You do need to make sure you don't have your subjects close to any strong and over-dominant background if you use f/8 as you always want to ensure your subjects pop out from their surroundings.
Image above right: Here two Canon 6o0 EX speedlights were used either side of me on light stands and with Lastolite EzyBox Hotshoe softboxes. With the recent, brilliant advance in technology I am able to use a Canon Speedlite Transmitter ST-E3-RT to set them off wirelessly using a very reliable radio frequency control. The amount of flash output needed was fairly strong, using the softboxes just made the light more gentle and flattering.



Directly above are three of the photographers that attended the event who I pulled out at random to photograph.
For my headshots I tend to stick to the same camera settings of 1/125 second at F11 (so that everything is nice and sharp) at ISO 100.
Left image: With Josh I used a single Elinchrom 600RX monobloc studio light with the octa softbox I mentioned above. This creates a really flattering even light that wraps around his face. What we needed to do to add light under his jaw was to use an Elinchrom tri-grip reflector.
Centre Image: Here I wanted to show the use of two light sources either side of me, but with the left light source further back to and not quite as strong in output to give a little shade on the left side. This can be a cool alternative for guys to add an extra dimension.
Third image: Here I have two lights either side of me (approx at 45 degrees to Heath our subject) at equal distance so that there aren't any super strong shadows on either side.
Notice with all three subjects I have ensured that one shoulder is more forward than the other. The landscape portraits were shown as an example of how you can break from the usual traditional format for another interesting composition, making use of 'negative' space to one side. This gives a client a fresh alternative look and is very popular with my corporate clients who don't have to stick to the conventional portrait format as shown in the first image of Josh. One of the most important lessons here was to keep chatting to my subject so they were relaxed and felt comfortable enough (even in front of a crowd of colleagues watching) for me to capture each of them as friendly, approachable and trustworthy.
If you missed out on our Newcastle Seminar stay tuned for soon to be announced workshops in other states in May and please feel free to drop us a line if you want to be notified. We also have workshops for beginners which will be for small groups on a Saturday just released today. To find out more see our workshops page.