This was my welcome to 'Middle Earth' New Zealand as I drove through a little seaside town called Mokau. For Taranaki people travelling home from the North, this is a heartwarming view to look forward too. If you look closely in the distant horizon you will see Mt Taranaki/Egmont faintly popping out behind the hills on the horizon. Nothing beats this view of home.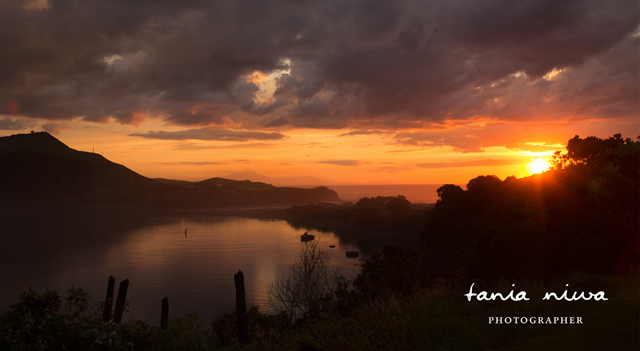 Mt Taranaki provides an immense source of pride, spirituality and inspiration for the tribes of Taranaki. Once the sun had disappeared over the horizon to the west and the landscape started to silhouette, the majestic "Maunga Taranaki" (Mt Taranaki) revealed itself more clearly on the horizon.
I felt like I was watching a brilliant movie. The light and the scene which I thought was amazing when I arrived kept getting better and better!!!
Thanks Mum and sister Nic for not complaining when I asked if I could stop for a quick shot (which turned into an addictive 150 shots and a one hour visual feast).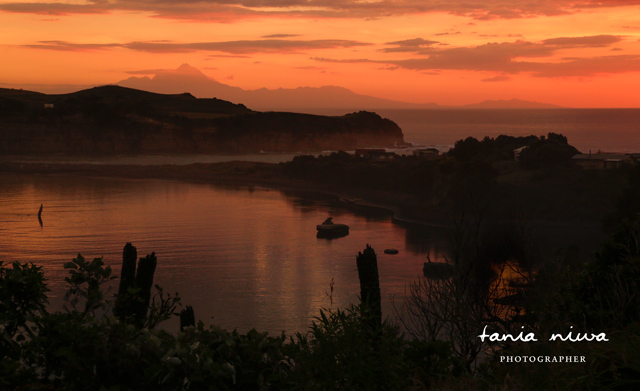 The sun sets much later in NZ than in Aussie, which was rather fascinating (having not lived here for 18 years I had totally forgotten). Later driving home through Mt Messenger and beyond we could still see the red sunset colours right up until 9.30pm whilst also being mesmerized by the heavy mist as we drove through the the steep forested Mt Messenger which is a mixture of coastal forest, kahikatea swamp, interspersed with hard beech forest.CAMERA SETTINGS: Image taken at 8.45pm on the beautiful Canon 5DMarkIII as a single capture. F11/60 sec at f/16 ISO 500 focal length 84mm (EF24-105 f4L IS USM)