An old friend Steve Clisby has just made it through the first round of Channel Nine's 'The Voice Australia'. Originally from California, Steve grew up playing the piano and saxophone from the age of seven and studied singing throughout high school. In the seventies he established his career in Europe with his African American soul voice, eventually basing himself in Amsterdam for two decades. Steve made Sydney his home since 1999 and is a North Shore local based in the harbour-side suburb of Mosman. Very few people have ever been able to guess Steve's real age, but tonight all was revealed when Delta Goodren asked his age. No one would ever guess he is is 67!!! He looks like he is only in his forties or fiftees!!! It seemed like an obvious match with Steve choosing Seal to be his coach for the tv series 'The Voice Australia'. I've always thought Steve looked a little bit like Seal (I love Seal's music too), we will see what others say over the course of the show.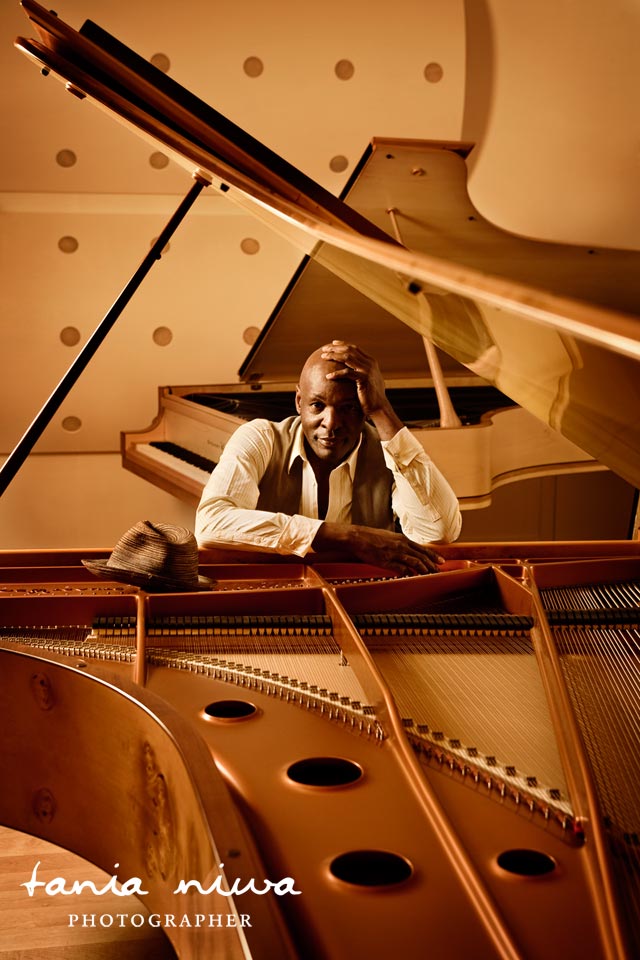 Steve was only able to let us all know yesterday about his appearance on The Voice Australia, and what easier way to share, than via Facebook and Twitter. Here's what he posted…"There's something I've been working on for a little while that I've had to keep under wraps…but now I'm happy to share with you… I'm on this season of The Voice Australia. My first episode is on Tuesday 7pm (AEST) on Ch 9. I hope you can come on this journey with me and share some of the highs and lows! Look out for a story on A Current Affair Thursday night also."
I took this portrait of Steve at a Grand Piano Factory in Newcastle. When Steve and I were brain storming ideas for his shoot, the opportunity to photograph him with his favourite grand pianos at Stuart and Sons Grand Pianos up in Newcastle was an exciting option that we rolled with! We had a fantastic day experimenting with moody lighting. Instead of using our studio flash lighting as 'studio lights', I just used the modelling lights that give a gentle continuous light (just like a light bulb does). When this image was judged at New Zealand Professional Photography Awards a couple of the judges wondered if the piano in the background was actually a photo on the wall, but it is a real piano too!
We worked in a studio space within the factory that had the most incredible acoustics and enjoyed capturing the circular shapes in the wall and within the piano! We were lucky enough that Wayne Stuart of Stuart and Sons let us have the studio for the day and were able to move these [very precious and very valuable custom made] pianos around where ever we wanted. It was heavenly!!! I'm not quite sure the very good insurance I have would have covered these pianos if I had dented them accidentally!!! While taking his portraits, Steve played live for us soulful in between shooting. We wanted to capture Steve's essence with a soulful, gentle feel. It was also important to incorporate Steve's hands, seeing he is a musician. Showing hands also conveys trust. We also wanted to include Steve's hats. He is known for wearing hats so it was very apt to help convey his style.
As you will see if you visit Steve Clisby's website he is a dedicated performer, composer and producer. As a contemporary artist, Steve's music has a distinctive and original edge as well as the smooth jazz/soul influence that defines his style. It is going to be lots of fun following his journey on The Voice Australia.