Description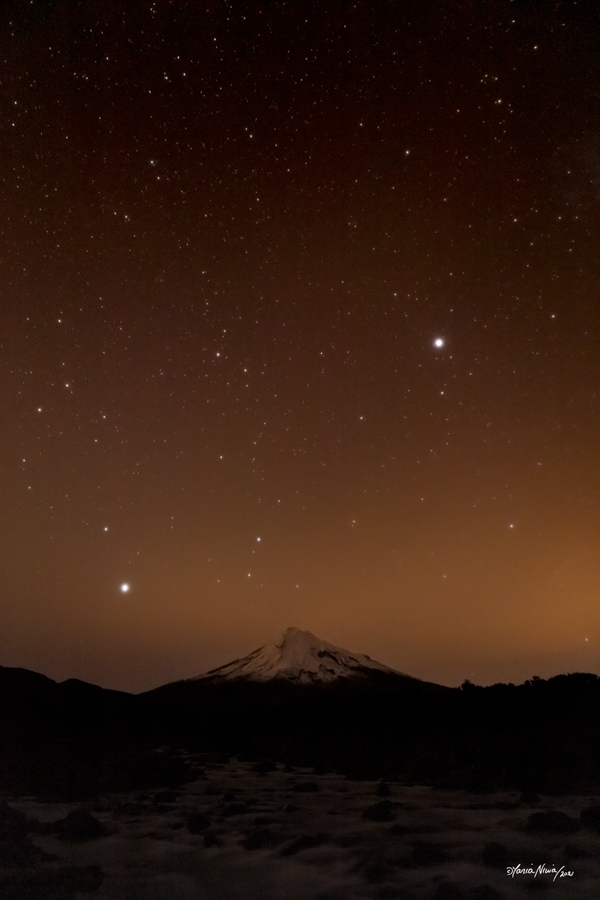 ChromaLuxe Metal Print
Mōunga Taranaki photographed during Puanga/Matariki – Māori New Year, in Taranaki, Aotearoa – New Zealand featuring the two brightest stars in the night sky, Sirius and Canopus.  Captured on the riverbed of the Hangataahua awa – Stony River, Okato.
To the lower left of the Mōunga is Sirius also known as 'The Dog Star' and part of the 'Canis Major' constellation.  I've learned the Māori name for this star is Takurua and also Tautahi.  The constellation is Kāhui Takurua.  The second brightest star (even though they look similar in strength here) is Canopus, known as Paepaepoto and also called Autahi, Aotahi as well as Atutahi.
This image was taken as a long exposure, 90 minutes before sunrise.  The magnificence of our taiao (environment/natural world) was awe inspiring and refreshing with a windless yet chilly temperature of just a few degrees celsius.  I feel deeply connected to this river which is part of our Taranaki Iwi rohe (area/boundary). You will see so much more detail in the final artwork which shows glimpses of the water flowing in the foreground.
About the artwork medium:
World leading high definition photo print on metal.
Features and Benefits:
° Outstanding image clarity and vibrancy
° Exceptional detail that will last a lifetime
° A unique, archival (60 yrs) artwork for your home or workspace.
Process used: Dye Sublimation. Your image is printed onto dye sublimation transfer paper using dye-based inks and then infused onto a specially coated ChromaLuxe metal panel with heat and pressure. The result is stunning with vibrant colour and a unique dimensional quality.
SMALL:
12"x8" (30.4 x 20.3 cm) $260 (plus p + p $20) $280
15"x10" (38 x 25.4cm) $395 (plus p + p $25) $420
Medium:
18" x 12" (45.7 x 30.4cm) $495 (plus p + p $35) $530
24" x 16" (60.96 x 40.6cm) $995 (plus p + p $40) $1035
30" x 20" (76.2 x 50.8 cm) $1150 (plus p + p $40) $1190
Large:
36" x 24" (91.44 x 60.96cm) $1450 (plus p + p $50) $1500
45" x 30" (114 x76.2cm) $1950 (plus p + p $75) $2025
60" x 40" (152×101.6cm) $2600 (plus p + p $170) $2770
If you have a special order request please contact Tania.
Orders can also be produced in Australia and the USA (please request a quote)
° Capture Date: 12th July 2021 during Māori New Year – Pūanga/Matariki
° Camera: Canon EOS 5Ds 50.6 Megapixel