It is always fascinating working alongside some of Sydney's leading architects, manufacturers and builders, photographing their exquisite property projects around greater Sydney. The most recent assignments have been on the Northern Beaches and Sydney's North Shore. From a photography perspective, the first step is to gain an insight into what their clients needs were, then consider how best to exemplify the way in which the architect has brought this vision to life. By choosing to use professional architecture photography instead of just 'record' shots or 'snapshots' it allows architects and builders to showcase their grand design expertise to the highest level. As you might imagine, many professionals are so busy working on projects that they don't always find time to keep their website folios up to date, yet it is a vital marketing tool for potential clients to see the unique skill, creativity and functionality on offer.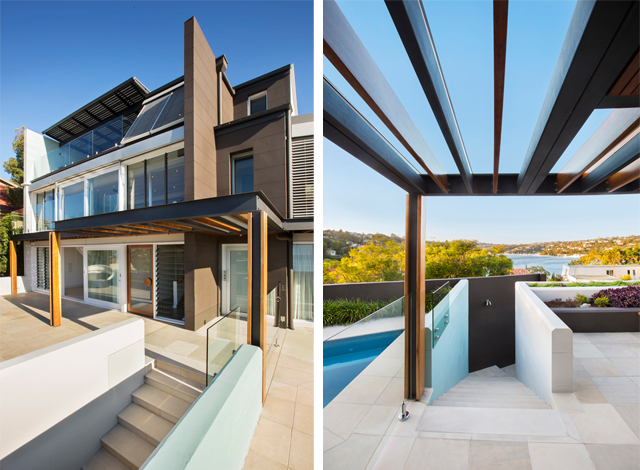 The home featuring in this post is a newly completed internal and external renovation by Michelle Walker Architects. Director Michelle Walker heads a leading Northern Beaches architectural firm based in Balgowlah. She is well-recognised in her profession with outstanding designs for residential architecture, interiors and outdoor spaces.
Michelle's client brief was to upgrade the home to make it more suitable for the family's needs which included a more suitable environment for their teenagers. There was also a desire to renew the character of the home to give it more presence, befitting the spectacular location, harbour views and courtyard design. Michelle was given access to all areas of the house which allowed her to come up with a design focusing on lines, angles and colours.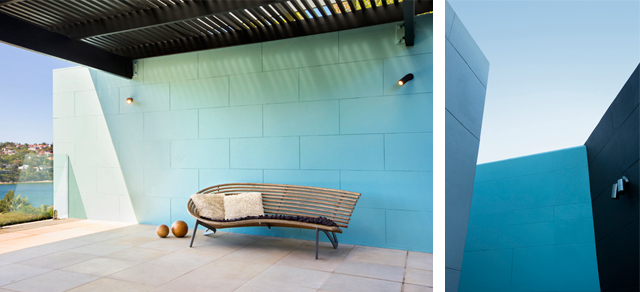 From a photography perspective, it was very important to observe and then reflect how the new colour palette and architectural angles fit within the relaxing, outlook: blue skies, water views along with the sandy tones of the shoreline. Attention to detail, a careful observation of the best times of day for most fitting light were required to complete this shoot.
Michelle says she is most proud of, "the external colours and substantial impact the colours have had on the character of the home. The clients were brave enough to go with a bold and considered paint scheme, which emphasised the structural elements of the home, rather than choosing to have all the external surfaces matching". The colour palette had to feature a pale sea green 'Seaglass' as it was a favourite colour of the client inspired by the ocean views of the home, which also complimented the home's existing furnishings.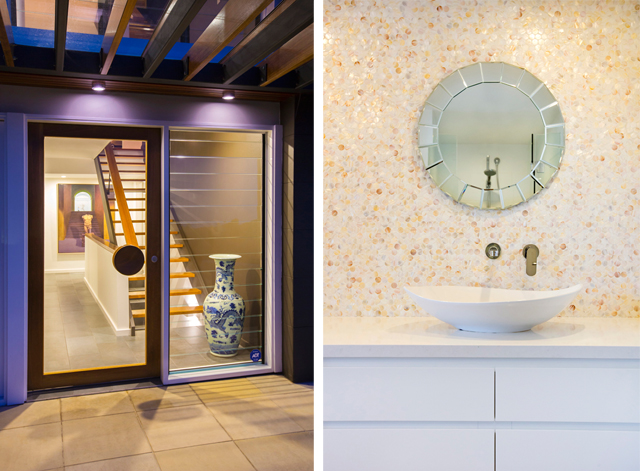 The internal works included improvements to the teenager bedrooms, the renovation of existing staircases, new flooring, guest accommodation and the creation of more space for leisure and relaxation.
The exterior works included a new entry and entry canopy featuring natural timber, steel with glass, new balconies, balustrades, new decking, stairs connecting the central courtyard to the upper floor terrace, new external colours and soft landscaping.
What challenges Michelle Walker was able to solve:
"The two biggest challenges were to create an appropriate entry to the home (as the existing entry was uncovered and via a pair of sliding doors) and to improve the usability of the main outdoor areas of the home – the courtyard and the upper floor terrace. "
"The new entry is marked by a timber & steel structure with glass over, providing an entry canopy & shelter to the new timber front door with round timber door handle. A new lift stop &lift door was also incorporated the new entry, without increasing the footprint of the home."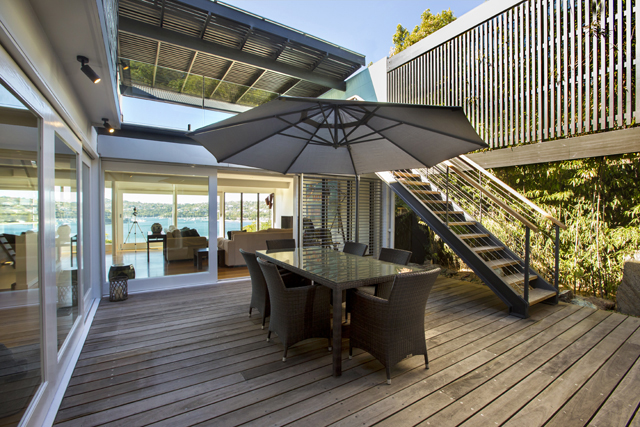 "A new steel & timber staircase now links the courtyard to the upper floor terrace, which means the upper floor terrace is being used more. Originally the bbq was planned for the courtyard, but it has been relocated to the upper floor terrace…what a view for the chef."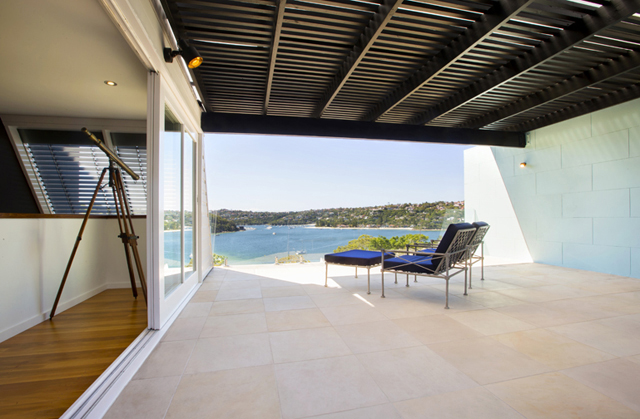 Why Michelle Walker chooses to work with Jetcharm Builders:
"I have completed many projects with Jetcharm over the years. They make my job easy, with their care and attention on-site, good workmanship, experience and good relationships with clients. The clients for this project had used Jetcharm for their previous renovation too."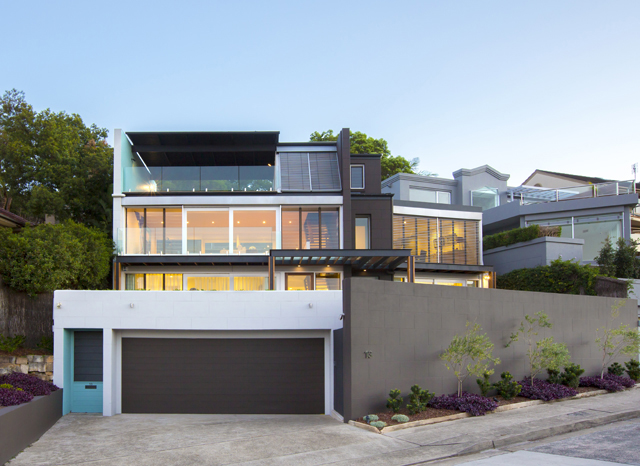 It was absolutely wonderful to see the magnificent makeover Michelle has instilled in this Chinamans Beach home and the positive impact it has had on the homeowners. Ever since I can recall, I have always had a fascination for understanding how things were invented, designed and built. In my very early days I studied Ancient Greek and Roman Architecture, Art, Art History and Technical Drawing, hence my love for industrial and architectural photography assignments just like this.
To see other examples of my work: interiors and architecture folio To be in touch please call: +61 2 9939 5553 or email us. Tania Niwa GM Photog AIPP /Fellow NZIPP