We have just photographed Maddi and her two very energetic pooches Teddy and Dexter who are a hybrid mix of Jack Russell cross Pug known as 'Jug' (JackPug) dogs.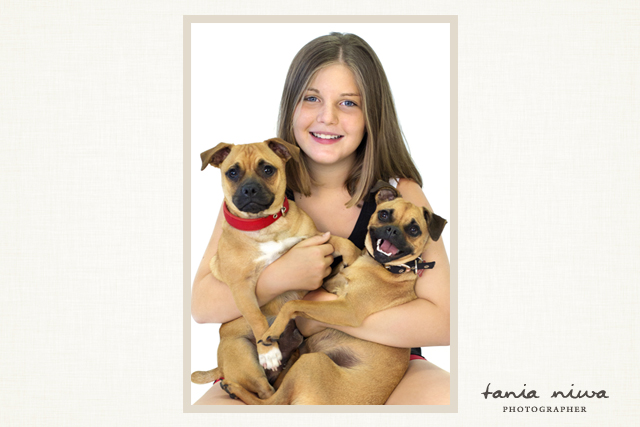 Here is Maddi's story about her beloved jugs:
"My puppy dogs, Dexter and Teddy, mean the absolute world to me. I will do whatever they want, so you could say I spoil them a bit, well actually you could say I spoil them a lot! When I first got Dexter I can still remember the feeling I had when driving up to get him. It was a mix of excitement and pure shock that I was really getting a dog. It took me four years of convincing my mum to get a dog. Each year mum would tell me to do research about what is involved. For example: how much food would cost, what vet we would go to, where the dog would be walked and by who.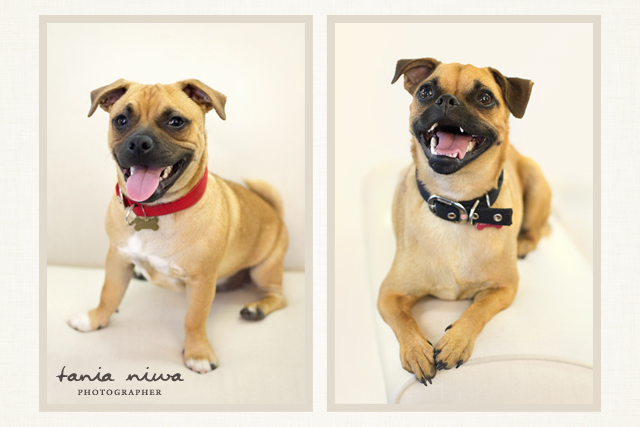 All of a sudden everything changed in the holidays of 2011-2012, when Mum and I started researching breeds and breeders. My favorite breed of dog is the Pug and mum's is Jack Russell so it seemed perfect that we got a 'Jug', so we were both happy. We found a good breeder and mum sent an email to her. We got an email back including photos of all of the dogs. We decided to get a boy dog for various reasons. We looked at all of the photos and Dexter stood out for both of us, we fell in love! We organised a date to pick him up. It felt like it took forever driving to pick him up and sitting in the car waiting for the breeder seemed like an excruciatingly long time but as soon as I saw him I couldn't believe that this small puppy dog was mine. After four years of dreaming, I wasn't able to comprehend just how amazing it would feel to hold my very own puppy for the first time.
Dexter is an absolute amazing little puppy. We had been enjoying Dexter's company in our little family of three when mum and I had an idea to get him a friend because he was getting lonely and being naughty during the day, chewing furniture. So when we went to Chatswood one Saturday mum said we could go to see the dogs in the pet store and there he was, our Teddy. He also had a brother who was still in the pet shop window but we choose Teddy because he was so sweet and cuddly.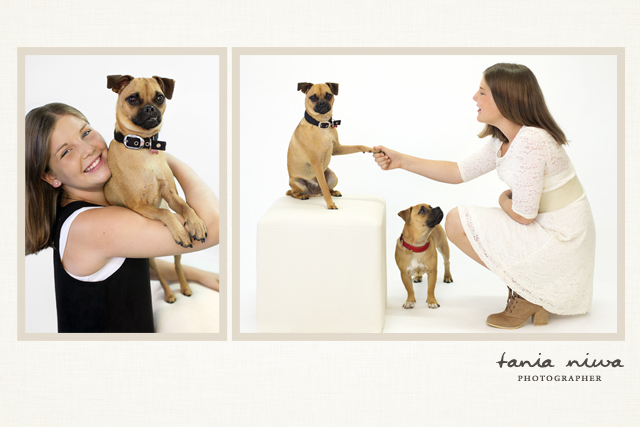 One of my favorite moments of blending our little family together was the first night that Teddy (pictured with red collar) and Dexter (with black collar) fell asleep together. At first every time Teddy tried to sleep with Dexter, Dexter would rudely stand up and walk away. It was amazing that it was actually Dexter to be the one to go and lie on Teddy. I still have the photo!
My dogs are the first thing I think of each morning and the last thing I think of each night. Having our photos taken with Tania captured the love and the happiness we feel together.
Thank you Tania for helping us to do this. The photos you took are flawless, they make me so happy! I have them over my bed and in my study. It makes me so proud to show people the photos because they perfectly represent the essence of my two beautiful dogs."
If you wish to see Tania Niwa's pet photography portfolio please click here. To find out more about having your family and pet photographed please call us on +61 2 9939 5553 or email us.