We had such fun working with 13yr old Bonnie and her owners Maureen and David. It might be hard to visualise the transformation of Bonnie from when we arrived and started testing the lighting to how you see her confidently posed on her chair. She was initially terrified by the flashes from our studio lights. We had been pre-warned that she would be spooked by any type of flash from a camera. This is the first time we have experienced such a reaction from a dogee so you can imagine we felt terrible! Eventually Bonnie became more relaxed, whilst safely nestled in Maureen's arms. Bonnie progressively warmed to the excitement of being centre stage and being amused by Montana my fantastic assistant.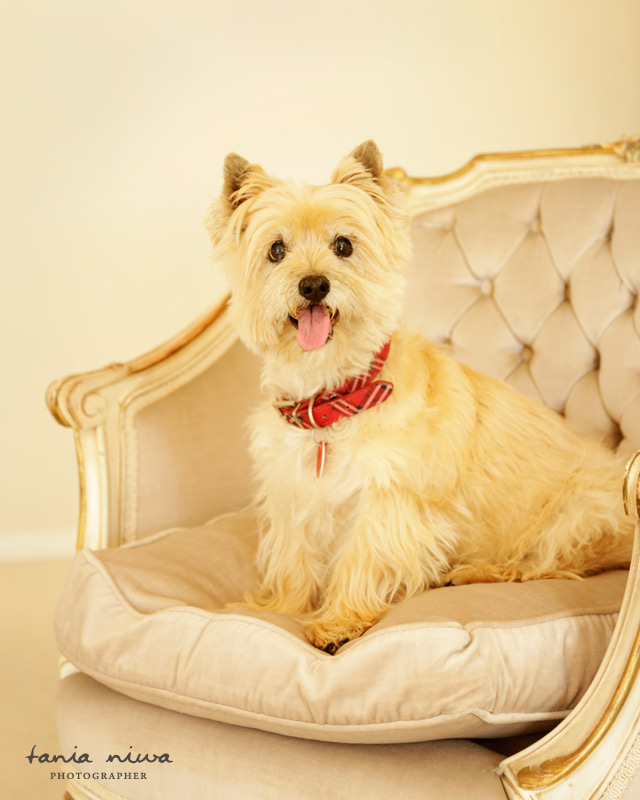 Bonnie is photographed here using gentle late morning window light (no flash) at her home. CAMERA SETTINGS: CANON 5DMarkIII Shutter speed 1/125 sec, aperture f/4.0, ISO 800
We were intrigued to know how David and Maureen came to have this beautiful Cairn Terrior as part of their family.
The couple explained that they visited a breeder in Yarramalong on the Central Coast of NSW. When the litter was released, the male pups exploded into a tumbling, brawling group but Bonnie stood at their feet and gazed up saying "please pick me". It is hard to believe that she could have ever had black hair when she was born seeing she has a lovely red/wheaten coat now.
Bonnie's delightful personality was infectious. We were smitten with her too (there was lots of gushing over her by Montana and me). Bonnie has a real love and preference for the company of people rather than dogs. When guests visit, Bonnie shares her presence around by sitting on their feet in turn.
Maureen said Bonnie has a language of her own and tells them what she wants and when she wants it, it is usually food!
When I asked further about Bonnie, we were fascinated to hear that she particularly hates planes that sky write. It's rather amazing to comprehend that she can even see or sense something going on far up in the sky! She also has a dislike for nocturnal visitors such as possums. She used to love playing with squeaky toys but now she is more senior she disdains such frivolity.
David and Maureen whole heartedly agree that Bonnie gives them total unconditional love and she gets it in return.