Here's an image taken last night at Vivid Sydney. First destination was to witness all the excitement around a giant chandelier in front of the Park Hyatt. The chandelier certainly was impressive and so was the sculptural set of glowing tree like globes that continually changed colour, illuminating the most magnificent tones of green, blue, amber and magenta. The challenge was to press the shutter to get the desired colour before it changed, get a good image projection on the Opera House (or not!!!) while also capturing the three quarter moon in just the right position as it quickly rose.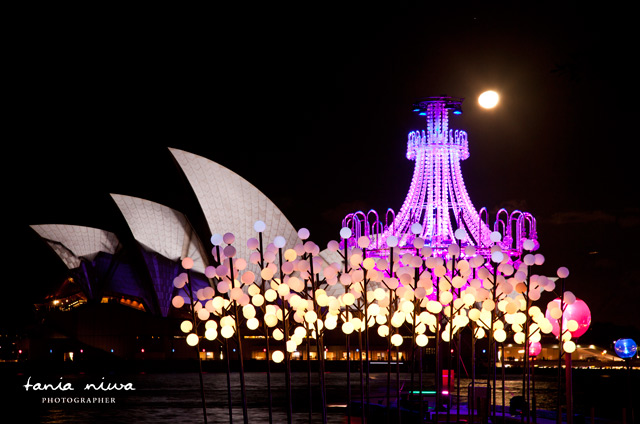 I was joined by Simone Liu of www.nauticacruises.com.au who I have worked with in the past photographing her family portraits since the 90's. She has a passion for photography and has taken one of my group photography workshops. I wanted to help Simone understand how to take photographs at night using a tripod and long exposures whilst also being mindful of composition.
Tip No 1 was to find a quiet, elevated position set back from the crowds so we could avoid including them in our photographs.
Tip No 2 was to take advantage of the live view on the back of her LCD screen for her to use to focus more accurately. In live view with the latest SLR digital cameras it is vital to make use of the 10x magnification to focus. I focused on the foreground lights. If you aren't familiar with what Live View is, it allows the camera to show you a live view of the subject on the LCD screen on the back of the camera (as if you are taking a video).
Here are the settings I used: 1 sec at f / 9.0, ISO 800. Focal length 105mm Lens Canon EF 24-105mm IS USM. Camera 5DMarkII
I am looking forward to seeing what we capture tonight. We are going to Customs House to see the light projection show.