For the past two weeks my home city of Manly was transformed into a highly professional surf city when it played host to the Hurley Australian Open of Surfing. This event and the buzz it created has been an absolute highlight of the year!
As a teenager back in the eighties, my passion for photography stemmed from surfing. Having grown up in a coastal town on the North Taranaki coast of New Zealand, there was [and still is] a really strong surfing culture. Our province offers incredible surf breaks, where within one hour's drive you will usually always find an offshore wind with a decent break to surf. Some of the best breaks like Stent Road are not always for the faint hearted. Amongst Kiwi surfers the province/people are fondly referred to by the same name as a popular surf brand, 'Taranaki Hardcore'.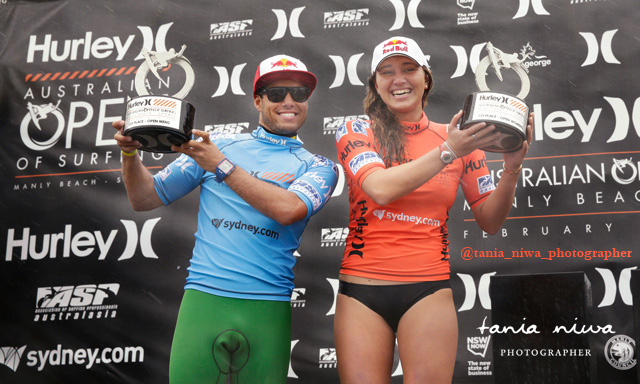 Hurley Pro Australian Open of Surfing Winners, Brazilian Adriana de Souza and Hawaiian Carissa Moore in Manly, NSW Australia.

During my youth some of the best surfers in the country came from our Waitara Bar Board Rider Club including NZ Champions like Jason Matthews, Motu Mataa and my cousin Brent 'Hench' Hutchieson who took out the Open Champ title when he was just a Junior (as did Motu before him). Most weekends I went on surfing adventures with our club to spots around the coast. Sometimes we would trek through paddocks, over barbed wire fences, weaving through cow paddies and sheep to secluded rocky points like Puniho Road. This would then be followed by some big stints in the Waitara High School darkroom processing black and white film, then printing my favourite photos which would often be published in the local community newspaper.
With a smile, I remember surfing posters plastered all over my bedroom walls (oh and…Bob Marley posters on my ceiling). My favourite international surfers were Californian Tom Curren (three time world champion), Aussie Tom Carroll (two time world champ, three times Pipe Masters Winner) and Tahitian Vetea 'Poto' David. Down the track (living in Sydney) I was lucky enough to get to know and take portraits of Poto and his French model girlfriend who both stayed with my Kiwi friends each time they visited Manly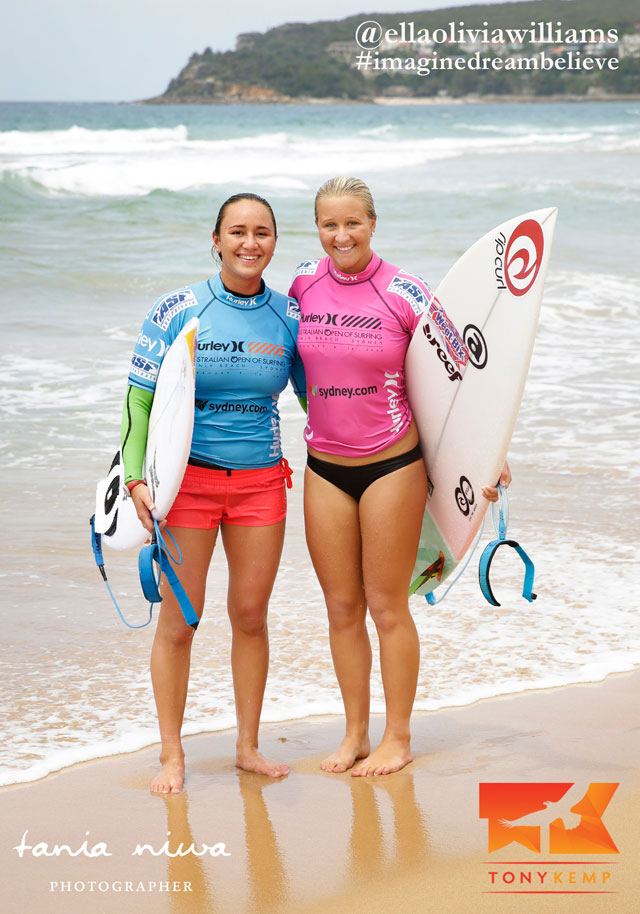 World Champ Carissa Moore (above left) with Pro Junior World Champ Ella Williams who surfed in Round 4 heats together and both progressed to the next round of 12.

Fast forward 20 years and my Kiwi business partner and great mate, Tony Kemp, has brought Niwa Photography back to the surfing world through Ella Williams, the current Junior World Champion whom Tony is mentoring and managing. Under Tony's guidance and motto 'Imagine, Dream, Believe', the 19yr old Kiwi from Whangamata has reached new heights, finding herself ranked 10th in the 2014 World Qualifying Series after competing at the Australian Open of Surfing in Manly. At the event she surfed alongside inspirational surfers like current world champion Carissa Moore, shark-attack survivor and motivational speaker Bethany Hamilton whom the movie Soul Surfer was created about. Our role was to document and capture a range of imagery of Ella for marketing, branding and social media. This meant that our Niwa Photography team were down at the beach covering all the action of the 2014 Hurley Australian Open of Surfing. As a result of the Williams family being so happy with what we have achieved with them, I'm now officially part of the Team Williams family and am helping with ongoing photography/social media strategy. Niwa Photography weekly team meetings have taken on a new level of smiles with this new Kemp-Williams-Niwa partnership. My assistant photographer Jack Coghlan and intern Shannon Pomare are mad surfers, so this is a all a bit surreal for them. It is also a great opportunity for our other intern Vanessa Zhang to use her fantastic journalism talents.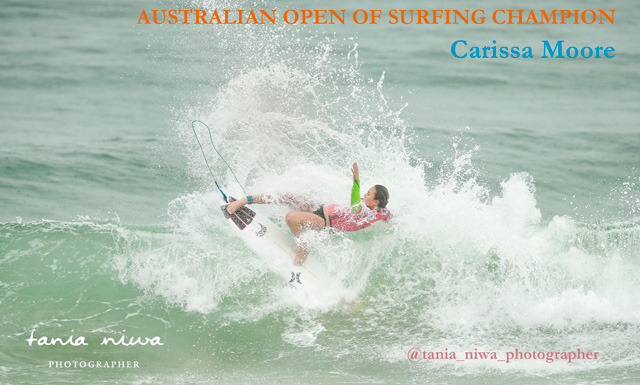 Carissa Moore showing her crazy, amazing talent and strength in the final of the Hurley Pro in Manly (yes she successfully pulled this one off).



Runner-up and fellow Hawaiian Alessa Quizon showing her class at the Hurley Pro.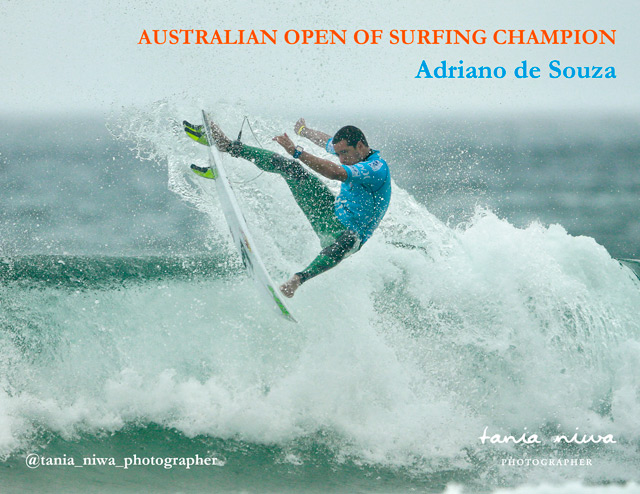 Unbelievably awesome talent and new leader on the 2014 ASP Qualification Series Adriana de Souza.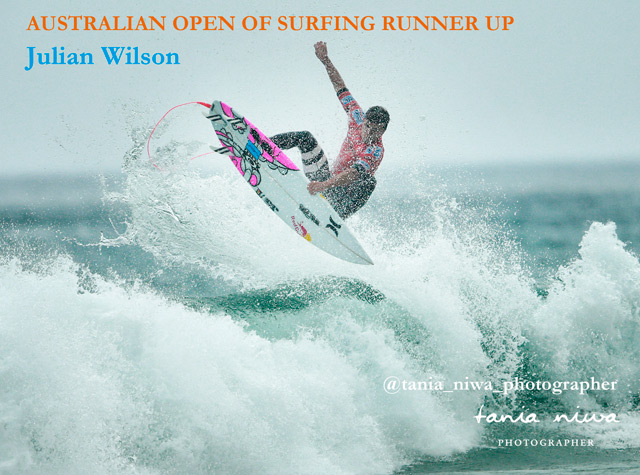 Crowd favourite Australian Julian Wilson was a shining star of the event pulling off a myriad of 360s. It was a photographers dream to follow his progress. Unfortunately in the final he just didn't manage to finish off his aerials like he did throughout the event.

So what's next on the surfing calendar??? Well just when we thought things couldn't get better… I have an invitation from Team Ella Williams to the 2014 ASP World Surfing awards at the Gold Coast next Wednesday night. It's going to be incredible being with Ella's family to see her presented with the Pro Junior World Title trophy in the company of icons of the sport. Ella made history last year being the first New Zealander ever to take a world surfing title. Imagine Dream Believe:-) We will be posting more about Ella's journey next up. If you want to see what else we do at Niwa Photography you can check out our website http://tanianiwa.com.au/photographer/