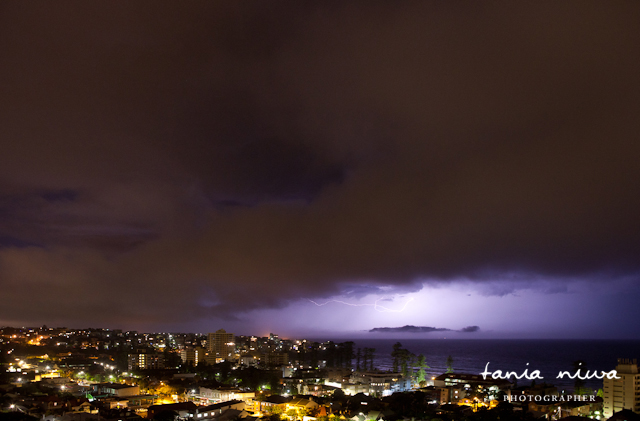 In the last few months in Sydney we have seen excessive rain and earlier in the month there were two magnificent lightning storms that lasted for at least an hour. I have always loved the idea of being able to photograph the lightning from the comfort of a sheltered area without getting wet or being struck. Lucky for us our home offers this option out on our balcony.
My teenage step-son Aiden pointed out how spectacular the lightning was and that we should all photograph it on our new cameras. The whole family captured still and moving footage. The kids each used their sturdy new Panasonic Lumix Waterproof cameras and gorillapods cleverly secured to the railing (a scary thing to watch as any mishaps would see their cameras falling 15 metres). After taking a series of stills on the Canon 5D Mark II professional Digital Camera I tried some moving footage on my new Canon PowerShots G12 (a compact camera that offers professional options). The movie setting has an auto exposure. It captured the light show perfectly.
On checking the camera data details of the image above, it showed it was created at 11.59:36pm on 5th January (only seconds from midnight). CAMERA SETTINGS: ISO 1600 | Exposure 2 seconds at f/5.6 | Focal Length 24mm.
Because the sea was pitch black other than when it was illuminated by the unpredictable lightning glow in the sky, I needed to focus manually and guess the point at which future lightning would be correctly focused. To be honest it was really calculated guess work, as I had never photographed lightning before. I set the lens distance to infinity and then rotated it back a touch from infinity.
This technique worked well. The lightning was perfectly in focus. I recall as a young photographer in the mid 1990's (pre-digital camera days) seeing an incredible image of lightning taken by Canon EOS Master Michael Langford in a remote area of the Northern Territory. I was intrigued to know how he was able to press the shutter at just the right moment to capture the lightning. With a big smile and a laugh, Michael explained that he set his camera to 'bulb' which means the shutter is open and he would then use his cable release to close the shutter once lightning had appeared and had been captured.
Remembering Michael's tips from 16 years ago I thought I too would put my camera on 'bulb' setting. I quickly realised that the difference between Michael's shot and our balcony was that my land/seascape was already partially visible with the street lights and buildings in the foreground of my image, whereas Michael was in an area that was pitch black without any hint of urban light to expose his capture until the lightning appeared. I then opted for a high ISO and a short two second exposure as mentioned above.